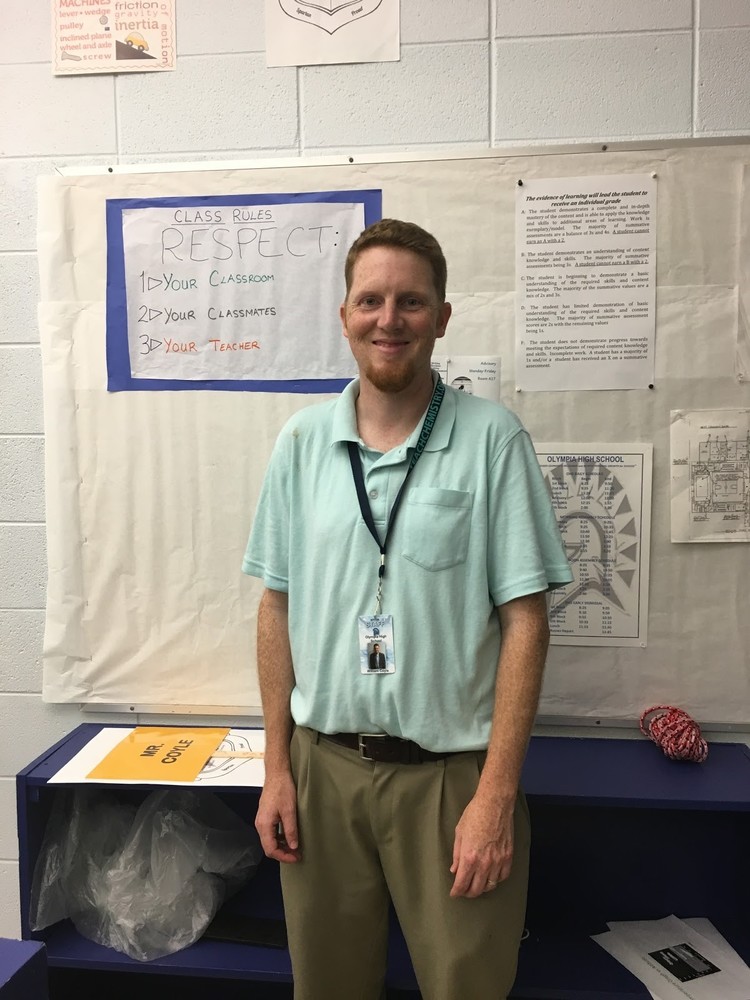 OHS Science Department Welcomes New Teacher
​By Trinity McCoy, OHS Torch reporter
Wednesday, September 18, 2019
New things are happening at Olympia High School with new teachers like Mr. Coyle, the new environmental science teacher from Atlanta, Georgia, who recently moved to Illinois for work.
His wife, Mrs. Coyle works at State Farm. Mr. Coyle has two children and a dog. Coyle is originally from Philadelphia, Pennsylvania, and he is a huge Philadelphia sports fan. Mr. Coley is most excited to teach environmental science this year at Olympia High School.
"It's amazing how he is jumping into a new science curriculum, and he is suing skill based grading. I think he's handling it very well," said Mrs. Cooper
"I have never taught environmental science," said Coyle. "It's the most important science class, like personal finance class, it helps kids learn skills."
"Focusing on student learning is what makes us all work together," said Coyle
Mr. Coyle is also part of the STEM club with Mrs. Bowers. Stem stands for science, technology, engineering, and math.
"Our club does academic competitions," said Mrs. Bowers. "We also have STEM celebration days which is two days where the second, third and fifth graders come and do stem activities, we also celebrate Earth Day with them."
"Stem is a big field, the highest paying jobs are typically STEM jobs," said Mrs. Bowers
Last year, Stem Club had a bake sale booth at homecoming. Coyle is positive that STEM club will have another booth at homecoming this year. In addition, Mr. Coyle's class goes to math competitions with STEM club, and they have planned a Six Flags field trip to learn the science of different amusement partk rides.
Coyle received his engineering degree at Penn State and then in 2015 he received his Masters of Arts in teaching chemistry from Kennesaw State. Coyle taught in the Atlanta, Georgia area for four years.
Coyle is also a chemical engineer. "It's really cool that he can show the students real life examples for everything we're teaching," said Mrs. Cooper.