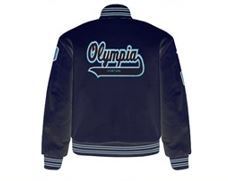 OHS Letterman Jackets Are Back!
kim logsdon
Thursday, December 05, 2019
Letter Jackets are back… Order forms can be found in the high school office. Any student who was not at the meeting on December 4th, a Jostens rep will return for a jacket fitting. Payment in full is required with order and needs to be turned into the office. Bring awarded letters & patches - sewn on at no cost! Click here for the order form and for more information.
Contact Kim Logsdon at Kim.Logsdon@olympia.org with any questions.