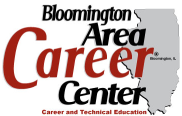 BACC Offers College Credit in Some Programs
By Jasmine Hardesty, OHS Torch reporter
Thursday, February 27, 2020
BACC is a Heartland Community College dual credit program for high schoolers offered at Bloomington High School. BACC leaves students with college career readiness, scholarships, and certified in special fields.
BACC offers students up to 15 different classes readying them for their careers. Students earn both college credits and high school credits. Getting into BACC is not hard. Students need solid grades, good attendance and respectful behavior. The requirements for each program can vary.
Mr. Hyland, OHS Counselor, said, "The easiest requirement is that you have to pass your last 8 classes. There isn't a GPA requirement at this time, but we just look case by case and see how that student doing and if it's the best option for them."
Most of the dual credit classes offered are hands-on. BACC offers every student the opportunity to do internships, job shadowing, and has every student do a mock interview at State Farm. Staff at BACC also help students with job applications and making their resume.
Emma Budman, OHS Junior, said, "I'm in the CNA class for BACC which is a prerequisite for nursing in college. We learn about all different kinds of things mostly focusing on the elderly learning how to take care of them. We go over things quickly, so we get a lot done and it's a very fast class."
Travis Paul, OHS Senior, said, "I'm in automotive at BACC and I'm a second-year student. We are learning the basics such as how to repair vehicles. If you're a hands-on person it works out great because you're in the shop way more than in the classroom."
BACC offers many scholarships to students in dual credit classes. They give out lots of resources for scholarships on their website. The most recent scholarships are the Agriculture and Normal Rotary Club. Both the Agriculture and Normal Rotary Club scholarships are giving $1,000 and require you to be a senior going off to college or trade school.
The students in BACC are also offered another program called Skills USA, where students go to a big conference with a bunch of other schools to compete and show off the skills and things they've learned in their dual credit classes.