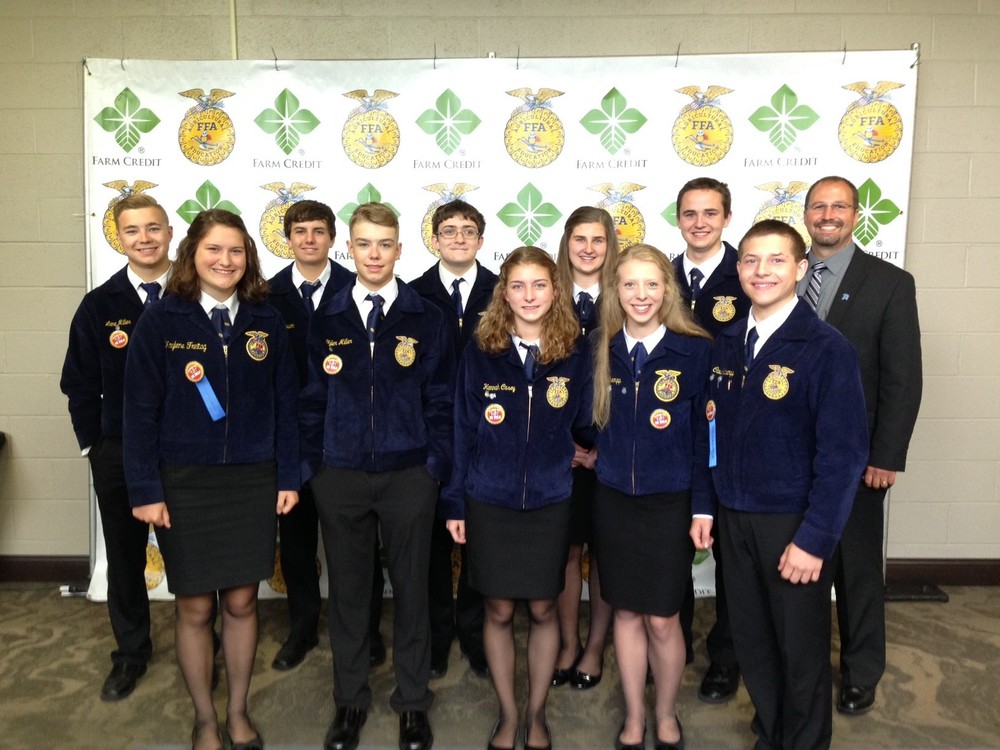 Olympia FFA Honored at State Convention
ED JODLOWSKI
Tuesday, June 19, 2018
SPRINGFIELD – Members of the Olympia FFA chapter attended the 90th annual Illinois State FFA Convention on June 12-14 along with more than 5,000 other FFA members, advisors, and guests.
"Be Bold" was the theme of the three-day event which recognizes achievements of Illinois FFA members, elects the major state officer team, and celebrates agriculture. Students at the convention were greeted with activities including a career fair featuring colleges and agribusinesses, an evening dance and talent show, and an opportunity to engage in the history of Illinois' capital city. The Convention's 2018 service project benefitted children through "The Crayon Initiative," which collects old, used crayons and creates new ones for distribution to art programs at children's hospitals across the nation. The convention program featured addresses by National FFA Southern Region Vice President Ian Bennett of Georgia and from each of the retiring major state officers.
During the convention, the following awards were presented to the Olympia FFA chapter:
Gold Rated Chapter Scrapbook: Cavit Schempp and Bailey Rogers presented the Olympia Chapter Scrapbook and answered questions about it's contents. Mr. Hoffman stated, "I have had several really good scrapbooks completed by students in the past, but Cavit's is the best yet!"
Foundation $3,000 Club Award Recipient: The chapter was recognized for coordinating a local campaign for the Illinois Foundation FFA which raised at least $3,000. The chapter's fundraising total was $3,010.
Century Challenge Award: Olympia received an award for having 100% of their ag students engaged as FFA members. Olympia FFA currently has 100 members.
History was also made at this year's State FFA Convention. For the first time, five young women will serve on the major State Officer Team. Josie Litwiller and Cavit Schempp were the Olympia Chapter voting delegates. Dwayne Hancock and Dawson Banister were the leaders of our Courtesy Corp group. These members served as door greeters and answered questions when needed.
About Illinois Association FFA
The Illinois Association FFA is part of the National FFA Organization, formerly known as the Future Farmers of America. More than 18,077 students are enrolled in 333 different FFA chapters in the State of Illinois. FFA is a national youth organization of 653,359 student members with a mission of making a positive difference in the lives of students by developing their potential for premier leadership, personal growth, and career success through agricultural education. Visit www.illinoisffa.org for more information.
About the Illinois Foundation FFA
Illinois Foundation FFA engages individuals, industry, education, government, and foundations in securing funds to support quality agricultural education and FFA programs in Illinois, including providing awards at the State FFA Convention. To learn more and become involved, visit www.illinoisffafoundation.org.
For more information, contact:
Illinois FFA Center | 3221 Northfield Drive | Springfield, IL 62702
217-753-3328 | www.illinoisffa.org