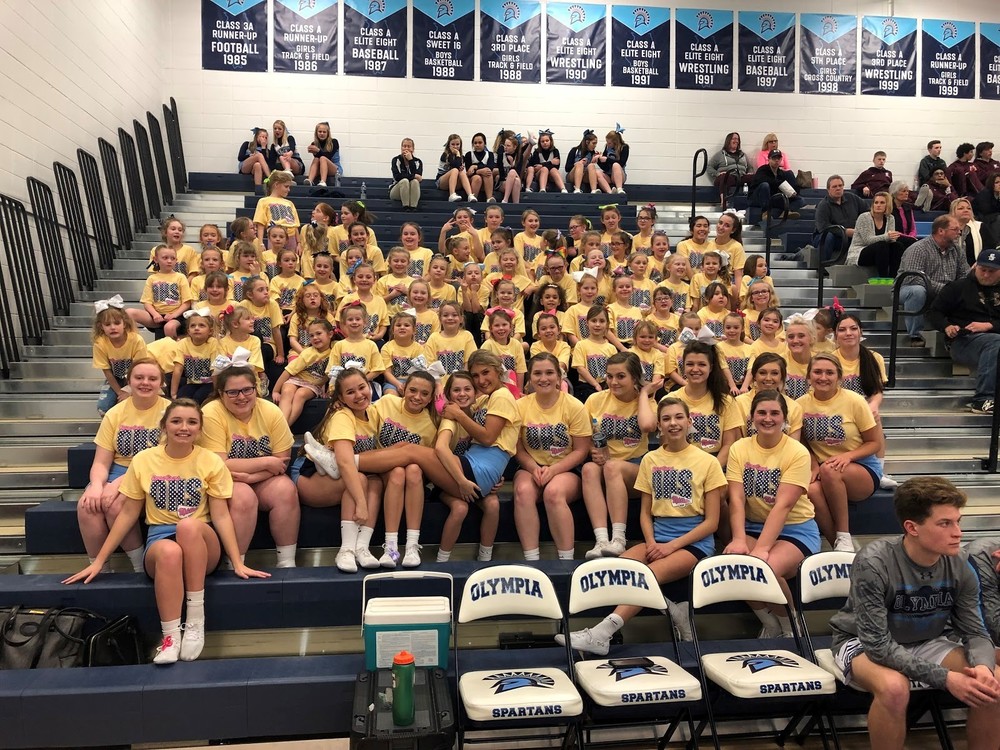 Mini Spartan Cheerleaders Take on Halftime
By Claire Mercier, OHS Torch reporter
Friday, February 15, 2019
February 8, 2019 - On Monday, the OHS Cheerleading Team pushed through the inclement weather and held its annual mini-clinic fundraiser for elementary students during halftime at the varsity basketball game against IVC.
Every year, the Olympia Cheerleading team holds a mini-clinic for local elementary students. The kids attend a three-hour practice where they play games, make new friends, and learn a cheer routine. They perform the routine during halftime of a home varsity basketball game.
"The mini-clinic is a way to bring all the elementary schools in the district together," said the Olympia cheerleading coach, Sam Nelson. "The Mini Spartan Clinic also provides the children with an opportunity to have fun and perform in front of family and friends."
This year's mini-clinic was held in the midst of one of the worst winters Illinois has seen in years. Coach Sam said the Illinois weather was by far the biggest challenge the team faced with the mini-clinic this year. The heavy snow and extreme cold caused both the mini-clinic practice and performance to be rescheduled.
Despite the inclement weather, the team was able to push through and perform Monday night during the rescheduled game versus IVC. In fact, the mini-clinic turned out to be a huge success. Coach Sam said "seeing all the smiling faces and hearing all the giggles that took place in the stands just minutes before the girls knew they had to go on to perform" was her favorite part of her first OHS mini-clinic experience.
Some current OHS cheerleaders even had younger siblings participate in the mini-clinic. Freshman cheerleader Lexi Hereford said it was fun to teach her younger sister all about cheerleading because her sister has always looked up to her.
This year's OHS Cheerleading mini-clinic was reportedly a huge success. Not only were local elementary schoolers able to have fun and perform in front of their families, the Olympia Cheer Team also brought in nearly $2500 through this event. This money will ultimately help the team purchase new equipment in the upcoming years.
To carry on the tradition, the Mini Spartan Cheerleading Clinic is set to run again next basketball season. Go Spartans!