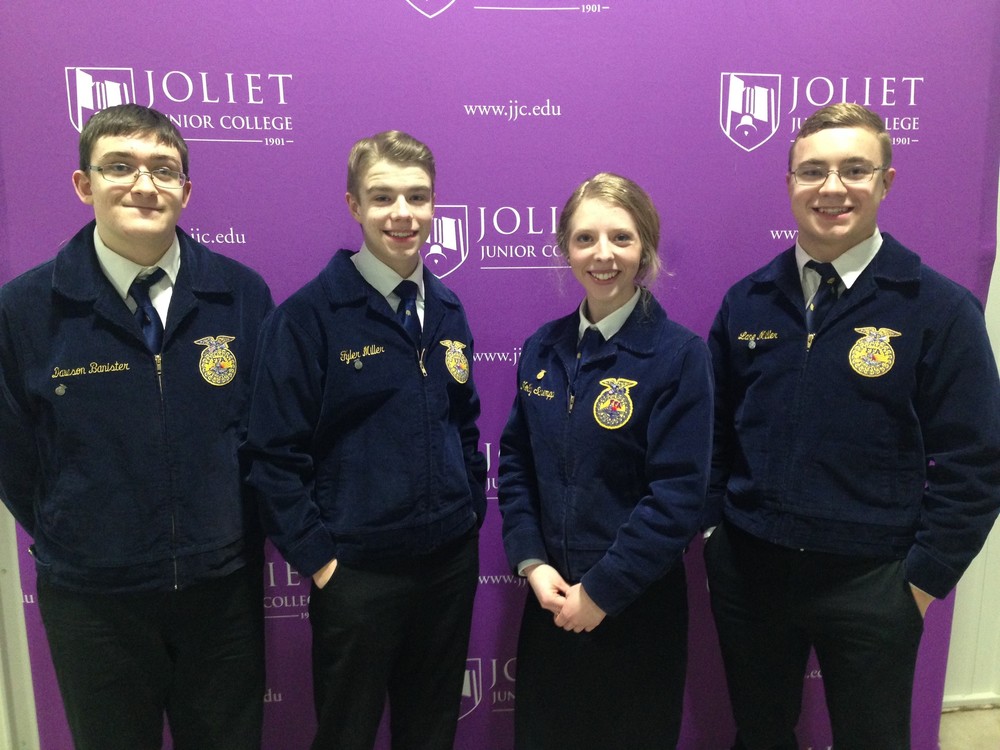 Olympia FFA Chapter Announces Proficiency Award Winners
Bryce Hoffman
Tuesday, March 12, 2019
The National FFA Organization describes the Proficiency Career Development Event as an "Agricultural Proficiency Award that honors FFA members who, through their supervised agricultural experiences (SAEs), have developed specialized skills that they can apply toward their future careers.
Congratulations to the following Olympia FFA members who competed in the Section 9 Proficiencies on Wednesday, February 6, 2019: Section winners included Lane Miller (Ag Mech-Design and Fabrication), Molly Schempp (Nursery Operations), Dawson Banister (Environmental Science) and Tyler Miller (Ag Sales and Beef). Lane, Molly, Dawson, and Tyler also competed at District 2 Proficiencies at Joliet Junior College on Thursday, March 7, 2019. Other competitors included: Alyssa Casey (Equine), Cavit Schempp (Vegetable and Goat production), Josie Litwiller (Food Service), Dwayne Hancock (Landscape Management), Bailey Rogers (Poultry) and Lane Schweigert (Sheep). Each student kept detailed records through their individual experiences and had an interview with 2-3 judges to determine the accuracy and individuality of their books.
Lane Miller was also named the Section 9 Star in Agribusiness. Lane has a custom woodworking business that he keeps records on. His business has really taken off this past year. One of Lane's featured items are his custom made cutting boards.
Students can compete for awards in almost 50 areas covering everything from agricultural communications to wildlife management. There are three main types of proficiency awards, those include Placement (employment, apprenticeships, or internships at an agriculture-related organization), Entrepreneurship (ownership of an agriculture related enterprise), and Research (planning and conducting an agriculturally based scientific experiment).